American retailer Vans has launched a new collection designed to promote environmental awareness.
In recent months, a number of fashion brands including Weekday, Mango and Reformation have announced initiatives to help shine a spotlight on the industry's environmental impact, and now Vans is joining them.
Damage done to the environment by the fashion industry is well documented – the UN Environment Programme says the industry produces 10 per cent of global carbon emissions (more than all international fights and maritime shipping) and textile dyeing is the second largest polluter of water globally.
Similarly, according to The Waste and Resources Action Programme (WRAP), approximately £140m worth of clothing goes into landfill each year.
Vans hopes to draw attention to environmental damage – specifically pollution of the oceans – with the new "Save Our Planet" collection.
The range includes four different shoes including the Era, Slide-On, UltraRange Rapidweld and Sk8-Hi Reissue.
Each trainer features either a colourful or monochrome graphic of the world map alongside the slogan "Save Our Planet" printed in a graffiti style and peace signs.
The collection also includes clothing and accessories, including T-shirts, a hoodie, a puffer jacket and two bags.
Prices start at £28 for a bumbag, with footwear ranging between £57-£77 and the puffer jacket costing £110.
The collection isn't just about looking super-stylish, with Vans ensuring that the range also gives back.
The brand has said it will donate up to £160,000 of the proceeds to Sustainable Coastlines Hawaii – a foundation that works to tackle coastal pollution.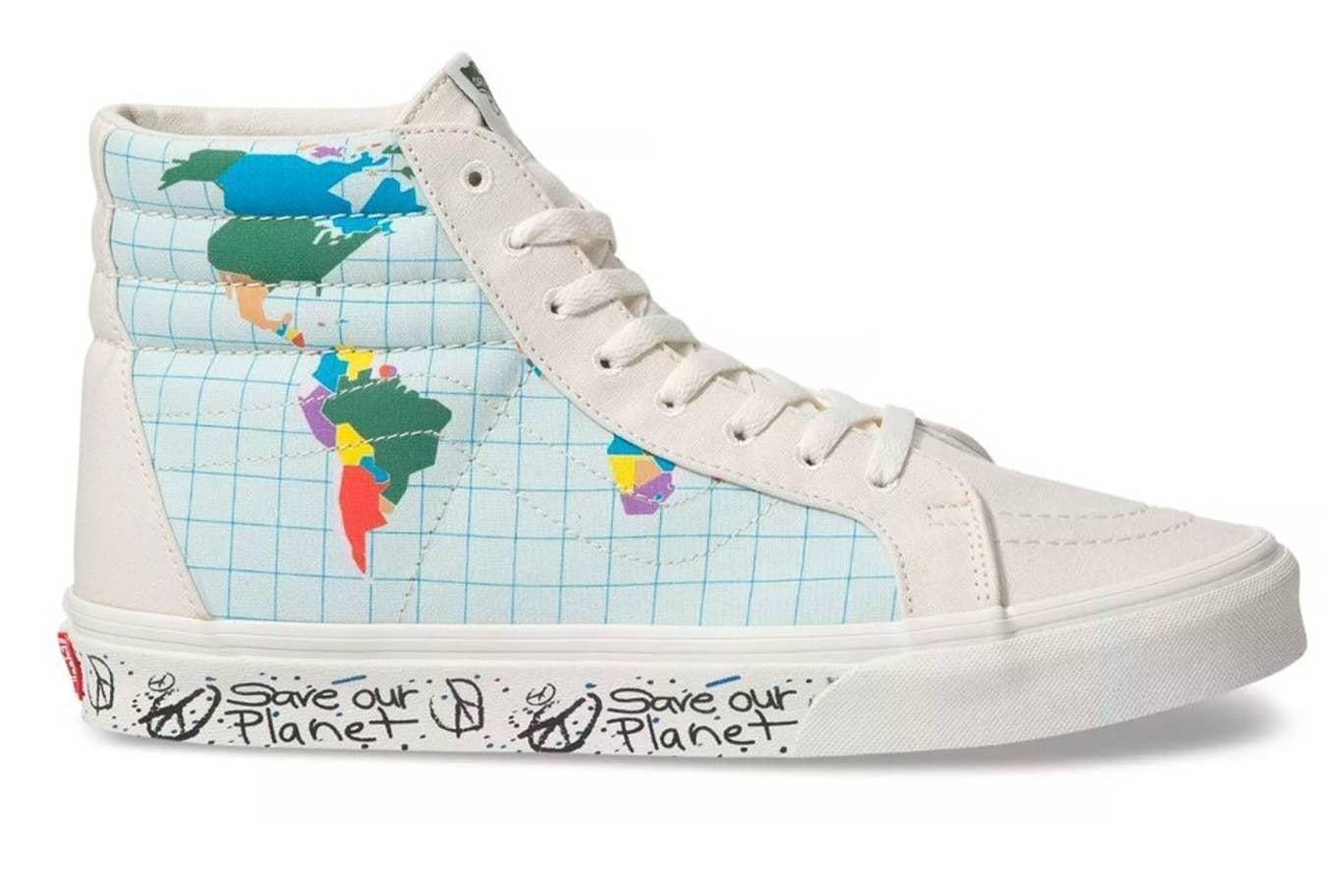 However, while the intentions behind the launch might be well-meaning, not everyone believes the new collection is the best way to promote sustainability.
Speaking to The Independent, Orsola de Castro, co-founder and creative director of Fashion Revolution – a global movement that raises awareness of the fashion industry's most pressing issues – accused Vans of being part of the problem.
"It looks like they are donating very little money and using a lot of plastic," de Castro says.
"Brands shouldn't be making new products and simply donating anyway, that is just increasing the problem.
"Anything that encourages people to buy more is still risking being part of the problem and not the solution."
This isn't the first charitable range that Vans has released. Last month, the retailer launched a Breast Cancer Awareness collection, which donated a proportion of proceeds from the range to breast cancer charity CoppaFeel!.
The range – which was targeted at women, men and children – included shoes, shirts, hats, socks, T-shirts, bags and hoodies.