Tests show recycled concrete could safely be used in new buildings in war- and quake-stricken country.
Concrete rubble from destroyed buildings in Syria can be safely recycled into new concrete, scientists have shown, which will make the rebuilding of the war-hit country faster, cheaper and greener.
Syria, which was also hit by a huge earthquake in February, has a vast amount of concrete rubble, estimated at 40m tonnes. The key barrier to recycling this waste is ensuring that the new concrete is as strong and safe as conventional concrete.
Scientists in Syria, the UK and Turkey have now demonstrated that using recycled concrete to replace half of the aggregate in new concrete does not significantly affect its building performance.
It is the first time concrete produced using rubble from buildings destroyed by war has been shown to be safe. Recycled concrete has been produced before in other places, but testing is required in each region because of local differences in how the concrete is made.
The Syrian civil war began in 2011 and has destroyed more than 130,000 buildings, 70% of which were made from reinforced concrete. When the conflict finally ends, millions of displaced refugees are likely to return, meaning it is vital to find ways to lower the cost and increase the speed of reconstruction.
The study was led by Prof Abdulkader Rashwani, a concrete expert from Sham University in Aleppo, Syria, where more than 40% of the buildings have been destroyed.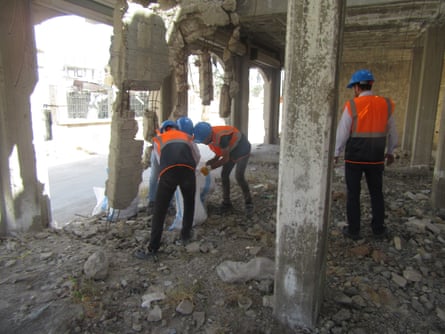 Rashwini was displaced by the war to Gaziantep, Turkey, and had to undertake long and difficult daily journeys into Syria to complete the fieldwork for the project.
"It was our duty to help the people there," he said. "A lot of people needed our help, so we went there and forgot about all the bad consequences. We have now started to go to some local councils and help them to put some plans in place for the future. We can at least try to make this region safer and give people some hope."
Dr Theodore Hanein, of the University of Sheffield in England, who was also part of the research team, said: "Sadly, the war has left many buildings destroyed and now, after the devastating earthquake, even more buildings have been damaged or destroyed in northern parts of the country.
"People will want to rebuild the places destroyed. [Recycling] will save a lot of transportation from bringing in raw materials and that's usually where you have the most cost and aggregate is becoming scarce. People [in Syria] basically have nothing at the moment."
The research, published in the Journal of Materials in Civil Engineering, used rubble from destroyed buildings at 10 sites in and around al-Bab city in northern Syria. Concrete is made from aggregate – small pieces of rock – and sand, cement and water.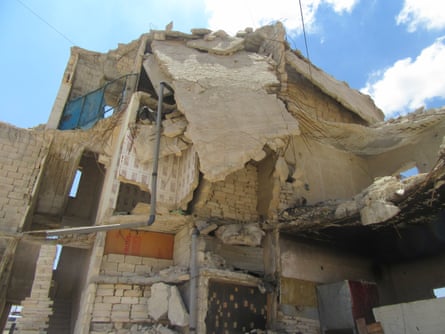 The testing process began by crushing the rubble, removing any steel or textiles and then washing the resulting aggregate. The fine material washed out contains the sand and cement and this is now also being studied to see if it can be reused.
The recycled concrete aggregate was used to replace 50% of normal aggregate in making new concrete. The compressive and tensile strength of this was tested, as well as how much water, CO2 and chlorine it absorbed. The two gases can form acids that could rust steel used to reinforce the concrete.
The concrete containing the recycled aggregate passed all the tests and the researchers said the protocol they had established could be used in other countries rebuilding from war and other disasters. The recycled aggregate could also be used to fill bomb craters and as foundations for roads.
Hanein said working with the Syrian scientists had been rewarding. "It was fulfilling, and what was awesome about this project is that it's something they can use tomorrow and make a difference."
Source: The Guardian