Water companies could face unlimited fines for dumping sewage under government plans due to be unveiled in the coming days.
Ministers want to lift a cap of £250,000 for penalties for firms that release sewage into rivers and the sea.
Releases of untreated waste are legal in some cases, but they also pose risks to human health and to ecosystems.
Official figures show an average of 825 sewage spills per day into England's waterways in the last year.
Latest figures from the Environment Agency (EA) showed a total of 301,081 sewage spills in 2022. This represented a 19% decrease from 2021 – but the EA put the drop largely down to drier weather, rather than the actions of water companies.
In the coming days, ministers are set to announce plans to "make polluters pay" – addressing all sources of pollution, including from plastics and chemicals used in farming.
Environment Secretary Thérèse Coffey said she would "be making sure that money from higher fines and penalties – taken from water company profits, not customers – is channelled directly back into rivers, lakes and streams where it is needed".
Currently, such money goes to the Treasury – but the plans will see money funnelled to the Department for Environment, Food and Rural Affairs (Defra) instead, into a Water Restoration Fund.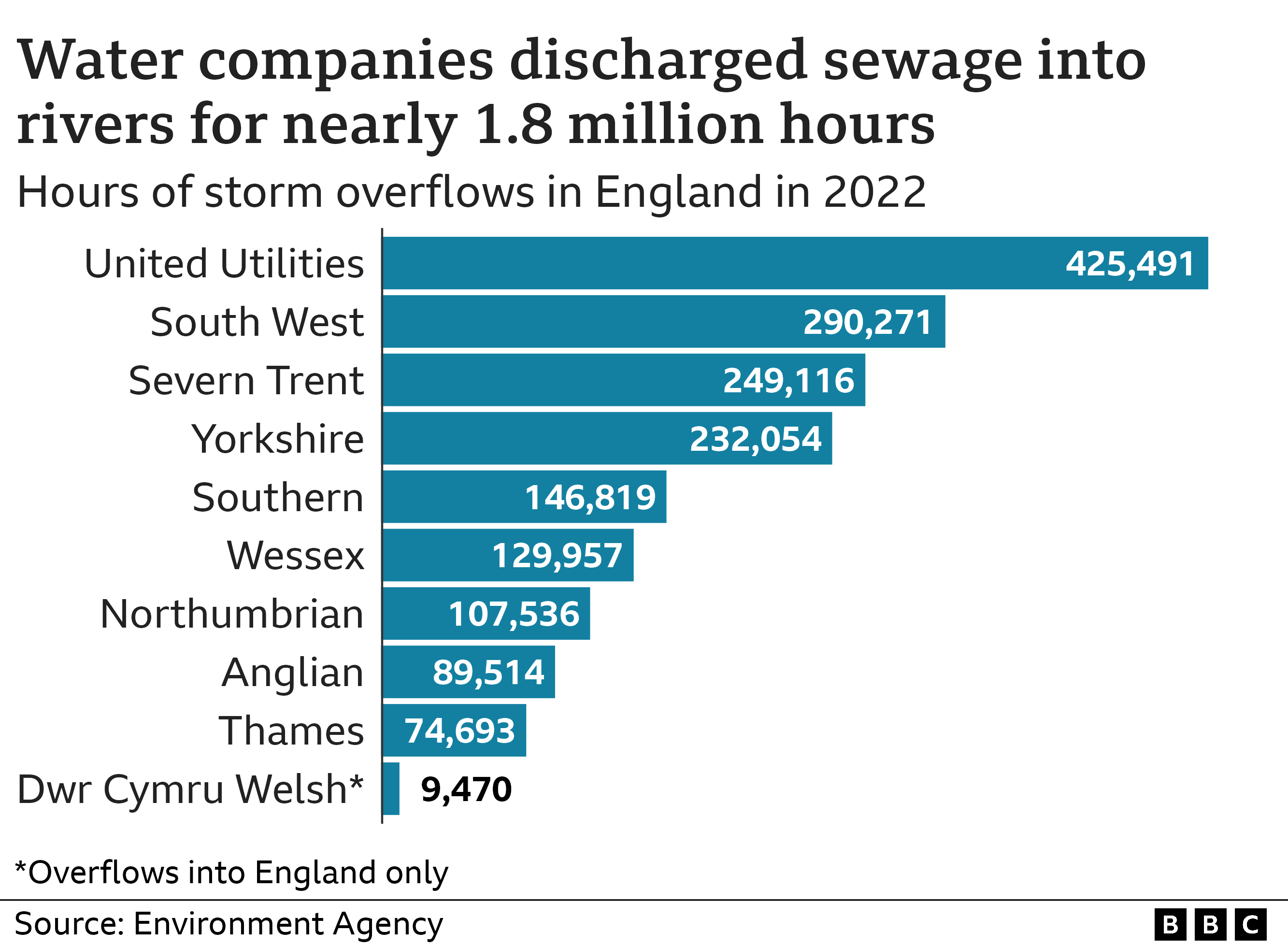 Companies are allowed to discharge untreated sewage into rivers in exceptional circumstances – for example, during heavy rainfall.
But they can be acting illegally if they pump sewage into water when the conditions are dry, or if they are not treating enough of the waste before releasing it.
Water UK, which represents the water industry, insisted there were "very high levels of compliance", citing government data.
"So while enforcement is vital if rules are broken, it will only ever be a tiny part of the effort to restore rivers to where they need to be," it added in a statement.
"The vast majority of improvement will come from investment – where we are bringing forward £56bn to accelerate work on storm overflows."
The government said the volume of spillages recorded in the latest data were unacceptable.
Ms Coffey also wants the Environment Agency to be able to impose sanctions without going through the courts – although it is expected that serious cases will still go through criminal proceedings.
Responding to Friday's figures on sewage spills, Labour said the government had allowed waterways to be treated as "open sewers".
The UK needed a "strong plan" to tackle sewage, Labour leader Sir Keir Starmer told reporters on Saturday, adding that he was "disgusted with what's been going on".
Labour has previously announced proposals to make monitoring all sewage outlets mandatory, and to impose automatic fines for sewage dumping, if it gains power.
The Liberal Democrats went as far as to say Ms Coffey should resign over the figures – while the Green Party said water companies should face greater accountability.
Under the government announcements, the environment secretary is expect to stress that she understands the need to protect the nation's rivers, lakes, streams and coastlines.
In a statement, Ms Coffey said: "I want to make sure that regulators have the powers and tools to take tough action against companies that are breaking the rules, and to do so more quickly."
The government has said that the fund will be used to help restore wetlands, create new habitats in important nature sites, and better manage rivers. It would release further detail on the Water Restoration Fund management in due course, it said.
Charles Watson, chairman and founder of River Action, said removing the cap on fines may mean the government "has finally woken up to the huge public outrage to what's happened to our rivers".
"At the moment the penalty regimes for water companies does not provide a big enough deterrent and by uncapping fines there is now potential of real teeth," he added.
Speaking to BBC Radio 4's Today programme, Mr Watson questioned how the water restoration fund would be enforced. He explained that environmental protection through the EA had suffered cutbacks, which limited its ability to "monitor and bring to book polluters".
Source: BBC